Almost every roof will come with a roofing warranty, but not all roofing warranties are the same. Most roofing companies will offer a one-year limited warranty on materials and or labor. That is because most of the time any roof will last for a year. With your roof being so crucial to your home and family it is good to understand how to make sure you are getting the correct warranty that will be a perfect fit for your home.
Here are four things to look for in a roofing warranty
1. Make sure you get the roofing warranty in writing, You need to make sure that the company you are working with will back things up in writing. Having a written warranty will ensure that you have a company you can trust.
2. Work with a certified installer to make sure that you get the best possible roofing warranties. When you work with a certified, by the manufacturer, roofing contractor many times, they will extend the warranty for ten years or more on both labor and materials.
3. Understand the difference in the roofing manufacturer's limited warranty and the roofing installers labor limited warranty. Both of these limited warranties will cover very different issues and you will need to understand what each means. Once you have a better understanding it will help you make informed decisions about fixing issues with your roof as time goes by. This point leads us to the next point is ask your roofing project manager a lot of questions.
4. Ask questions about your roofing warranty to understand your coverage fully. You need to understand everything about your roofing warranty, What will it cover and what, if anything, will you need to cover out of pocket if there is warranty work to be completed. What is the process to start a warranty claim and is the roofing warranty transferable if you sell the home?
Why Barrelle Roofing?
At Barrelle Roofing our whole team of roofing project managers can help you look through your warranty information and answer any questions. Even if we were not the company that initially installed your roof, we are glad to help. We know how to properly install your roof the right way. Our roofing project managers want to help you and get the best result for your roof and family. All of our roofing team members live, work and play right here in the Metro Atlanta area and are part of the community. The team at Barrelle roofing cares about your roof and family because we are going to be here for the long haul and want to build authentic relationships with our clients instead of just being a transaction.
If you have questions about your roof or roofing warranty, please contact us directly at 770.658.0342
Barrelle Roofing installs and repairs both residential and commercial roofs all over the Metro Atlanta Area. Our teams work in Clark, Oconee, Walton, Jackson, and Barrow counties most of the time. Our team will come out and inspect your roof and see if there are any issues. If you have a possible leak or have seen a yellow or brown spot on your ceiling, there is a good chance you have a roof leak that needs to be addressed. The team at Barrelle Roofing also has an emergency and storm response team and if you ever have storm damage, give us a call first. We hold a general contractors license and deep relationships with tree removal services in your area. So before you call 3 contractors and have to juggle everything please give us a call and we can help you through the whole process.
Our Blog
When looking for a roofer you need to find the experts in the field. Let us educate you on the roofing industry and what to look for.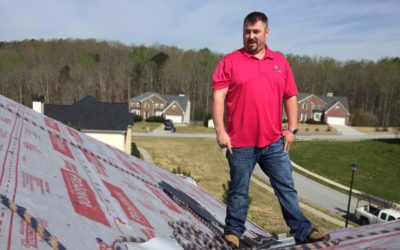 Pretty commonly we see roof materials that have been installed the wrong way by another roofing company that we end up tearing off and replacing or repairing to prevent current or future issues. This is why installing your roof the right way is so crucial. When it...
Schedule Your Inspection Today