When you get your roof job done here are three things you should know that your roofer is doing. With our roofing products, we always start with the basic idea that every roof system needs to seal your home from the elements, defend your home from harsh weather, and breath to keep your roof system in perfect working condition. The team at Barrelle Roofing has put together this short list of 4 things to know when selecting a roofer when having your roof repaired or replaced. We will go over starter shingles, True hip and ridge shingle, Ice and water shield in your valleys, and flashing on your roof.
Why use a starter shingle?
Roofers in the past and some still today will take a shingle and turn it upside down to be the first row of shingles down by the gutter. We have switched to using a true starter shingle because it is much better for our customers. Because Barrelle roofing is a preferred vendor of Owens Corning, we have been trained and provide our customers with this product. We use this on the eaves, rakes, and roof edge. Because the starter shingle has an adhesive strip all the way down for the next run of shingles to adhere too. It also will allow these areas to have a very straight edge that will give your roof a very clean look. We simply do not cut shingles or flip them over to start the first row. We want to provide you with the highest quality we can as well as ensure that you get the wind warranty they roof is rated too.
What is a Hip and Ridge shingle?
Some roofing companies and manufacturers will once again cut a shingle for your ridge or hips to finish off your roof. Our team at Barrelle roofing goes by Owens Corning standard of using a specific product for these areas called a right hip and ridge shingle. Not only will this shingle make your roof look great, but by using it, you will get much more warranty support. When you install the roof system to the highest standards, you will get you a non-prorated 50-year labor and material warranty against any defects as well as a 10-year labor warranty backed by Owens Corning.
Why should you have an Ice and water shield in my valleys?
Your valleys on your roof are very important to the overall health of your roofing system. The roofing system we use has a 36-inch wide ice and water shield that we install in every valley before other roofing material goes down. This added layer of protection will keep your roof in good shape in heavy rain or the ice we get in our area. Some roofing contractors will cut this product in half because they believe it will be good enough. The team Barrelle Roofing never cuts corners that will affect the long-term health and warranty of your roof. The full 18 inches of Ice and water shield on each side of the valley will provide you with peace of mind for years to come.
Flashings
All of your flashings will need to get replaced if it has holes in it, corroded, or rusting. Your roofing contractor should provide photos of your flashings around your roof. To meet code and ensure the highest level of protection to your roof, we inspect your flashing should not have any holes, corrosion, or rust on it. If it does, then it needs to be replaced. If you have a roofing company that is not providing images of your flashings and or just cutting the corner of not replacing older flashings that need to be replaced, then it is a good idea to use a roofing contractor that will pay attention to this little details. Your roof is going to last a very long time if it is installed correctly and a roofing company that will watch after these details with high standards will ensure that you get the most out of your roof.
Who is Barrelle Roofing?
Barrelle Roofing has been providing quality roofing repairs and replacements in the North Atlanta market for 22 years. Our team is made up of project managers that look after roofing teams. We provide our clients with the information they need to make the perfect decision when it comes to their roof. Barrelle roofing provides service to families in Suwanee, Buford, Duluth, Lawrenceville, Loganville, Athens, Watkinsville, Gainesville, Jefferson, Winder, and the surrounding areas.
Call when you are ready
When you are ready to have your roof looked at please call us at 770.658.0343 or contact us through any of our contact forms or the one below!
Schedule Your Inspection Today
Our Blog
When looking for a roofer you need to find the experts in the field. Let us educate you on the roofing industry and what to look for.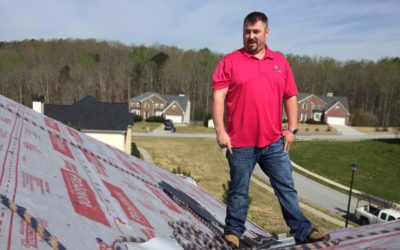 Pretty commonly we see roof materials that have been installed the wrong way by another roofing company that we end up tearing off and replacing or repairing to prevent current or future issues. This is why installing your roof the right way is so crucial. When it...