Barrelle Roofing
"When hiring a roofer is a must, hire the one you can trust ®."
Schedule your inspection now
Professional Roofing Services
Barrelle Roofing is a local, family-owned business with over 22 years of experience in the roofing industry. We are licensed and insured for your protection, accredited with the Better Business Bureau, and an Owens Corning preferred contractor.
Residential Roofing
We specialize in residential roofing and love working closely with our customers through every step of the roofing process. We want you to be just as happy with the experience as you are with the quality of work we produce.
Emergency Roofing Repair
Our quick response team at Barrelle Roofing is ready to go 24/7 – 365 days a year. When disaster strikes you are only a phone call away from resolving your roofing emergency.
Roofing Insurance Claims
When your roof has been damaged you need a professional to help see you through the process. It is important to have an independent contractor on your side. Once you have submitted a claim, we will be there during inspection to provide an expert opinion on your behalf.
Commercial Roofing
Barrelle Roofing has extensive experience with a wide range of roofing options available for commercial installation. We have the expertise to help you choose the right option for your structure and see you through the process.
Asphalt Single Roofing
As an Owens Corning certified roofer, we are a trusted source for asphalt shingle roofing. Through Owens Corning we offer our customers a variety of great color and style options.
Metal Roofing
Metal roofing installations require the skill and expertise that come from over 22 years of experience. We can help you navigate metal roofing options and produce a metal roof installation that exceeds your expectations.
Should I get a Roof Inspection?
We recommend regular roof inspections every 5 to 10 years increasing in frequency as your roof ages. We want to identify potential problems before they cause damage to your home or business. If you suspect your roof or gutter system is damaged or it is time for another regular inspection do not delay. Contact us to have one of our experienced technicians come out and perform an inspection.
Barrelle Roofing Strives to Exceed Expectations
Flexible Appointment Times
Dedicated Project Manager
Full-Service Roofing Contractor
Our Blog
We strive to empower you with the knowledge we have attained from over 22 years in the roofing business.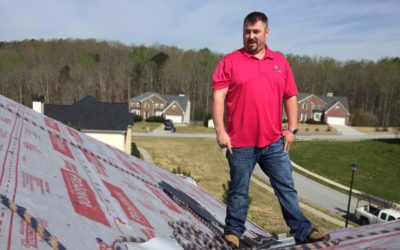 Pretty commonly we see roof materials that have been installed the wrong way by another roofing company that we end up tearing off and replacing or repairing to prevent current or future issues. This is why installing your roof the right way is so crucial. When it...
Schedule Your Inspection Today
We Stand By Our Slogan
"When hiring a roofer is a must, hire the one you can trust ®."